Post by sportsjock on Nov 11, 2019 22:56:25 GMT -5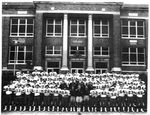 I think it's been established, this family friend is not an agent of any sort, nor was he a booster.
Initial hysteria had him as an NFLPA and the sum was like $100,000 and that there was nefarious intentions.
As the facts finally come out, it's proving to be a much more innocent situation, just not good headline grabbers as the social media would like.
The following is the NCAA bylaw in question. I think Chase is essentially home free. The gray area is the 'established family friend', which is open to interpretation. Not specific at all. Chase claims that he and his family developed a friendly relationship with this guy about three years ago. So, who is to say three years is insufficient time to establish a family friendship?
NCAA Bylaw 16.11.1.3
, "a student-athlete may receive a loan from an established family friend without such arrangement constituting an extra benefit, provided: (a) The loan is not offered to the student-athlete based in any degree on his or her athletics ability or reputation; (b) The individual providing the loan is not considered a representative of the institution's athletics interests; and (c) The relationship between the individual providing the loan and the student-athlete existed prior to the initiation of the student-athlete's recruitment by the member institution."
If there are no clear and specific infractions of Bylaw 16.11.1.3,, then there is no moving on the latter bylaw that breaks down the degrees of punishment, by bracketed loan amounts. Of course, this must have been written back in the 50's or 60's, because the amounts are ridiculously low. Obviously, there was no adjustments for inflation....lol
But, as I said, if there is no clear and specific violation of this bylaw, then the punishment portion is a mute point and not applicable.